2020 Photon Step On Snowboard Boots
2020 Photon Step On Snowboard Boots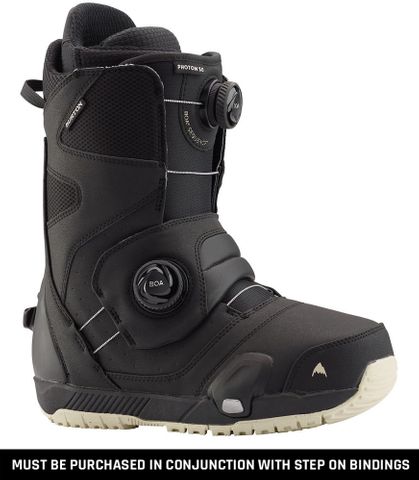 Stock Level
Sold Out
Sold Out
Sold Out
Sold Out
Sold Out

Description
*Must be purchased in conjunction with men's Step On® binding's. Will not be sold seperately.

The men's Photon Step On Snowboard Boot delivers the highest level of performance with the added comfort and convenience of the Dual Zone Boa® Coiler Closure System. The boot is designed specifically for the Burton men's Step On® Binding to deliver unprecedented entry/exit speed and uncompromised board control in an incredibly easy system. Just turn the Boa® dials to fine-tune the boot's fit, then simply step on to the binding and you're ready to ride.

Pair this with the men's Step On® binding and experience the ultimate comfort and convenience of snowboarding's most intuitive connection.
Specifications
• Dual Zone Boa® System with Sequence™ and Coiler™ Technology, Powered by Burton Exclusive New England Ropes with the Boa® Guarantee
• Step On® Backstay
• 1:1 Firm Flex PowerUP Tongue
• Total Comfort Construction
• Snow-Proof Internal Gusset
• Imprint™ 3 Liner, Focus Cuff and Hook-and-Loop Closure
• ReBounce Cushioning
• Sleeping Bag Reflective Foil
• Step On® EST® Outsole
• Recycled Rubber Content
• This bag [dubbed, the Boot Pack] is 100% reusable, and achieves a reduced carbon footprint compared to previous Step On® packaging!