2020 The Black Snowboard Of Death Snowboard
2020 The Black Snowboard Of Death Snowboard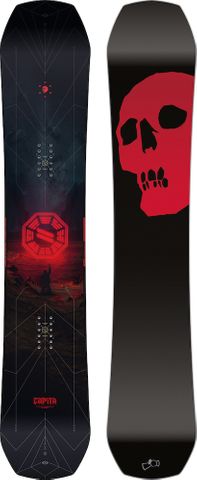 or make 4 payments of
$220.00
with
More info
Stock Level
Sold Out
Sold Out
Sold Out
Description
With legendary status as an all-terrain slayer, The CAPiTA
Black Snowboard of Death is always evolving. In fact,
the only element that has remained the same over the last
eighteen years is the name itself. For 2020, The Black
Snowboard of Death has been refined within its anytime,
anyplace, any condition, all-mountain design mantra which
made it famous from the beginning. With a balanced
presentation of a directional shape, the custom-designed
hybrid camber allows for incredible control—making you
a better snowboarder in variable terrain and changing
conditions. The 2019 model features a new FSC® Certified
FC Hover CoreTM with embedded Forged Carbon Power
RodsTM and new AmplitexTM V-Tech Amplifiers to retain
longitudinal power while achieving a desirable flex for
advanced all mountain terrain. Combine those attributes
with a carbon formulated HyperDriveTM base featuring a
factory-direct Moonshot Pro-TuneTM race base structure, and
The Black Snowboard of Death once again stands as one of
the most advanced snowboards available.
Specifications
• MultitechTM Level 5 DeepSpaceTM
• Metallic Silkscreen + PAM16000TM Topsheet with Metallic Underlay
• MultitechTM Sublimation + Die-cut Base
• PLT Topsheet TechnologyTM
• 360 Degree HRC48 Steel Edges
• Full ABS1000 Sidewalls
• Stainless Steel 4 x 2 Inserts
• Titanal Base Inlay